Minela Krupic is an artist and former refugee from Bosnia Herzegovina. Exiled to Germany (1992) as a result of the Bosnian war, Minela settled in Australia in 1997 where she overcame language barriers, cultural differences, loss and discovery and continues to explore these challenges through her art practice.
Minela graduated with a Bachelor of Fine Arts from the Victorian College of the Arts in 2012. As a recipient of the 2012 Heartlands Art Prize and with the help of the Australia Council ArtStart grant, Minela purchased an etching press and opened a printmaking studio Inkling Workshop, a Docklands Spaces initiative. Minela currently facilitates printmaking workshops at Inkling Workshop with refugee artists to investigate the challenges of adjusting to life in Australia.
In 2014 Minela received the Victorian College of the Arts & MCM Professional Pathways Scholarship and through this, organised to work in collaboration with Multicultural Arts Victoria on their 2015 Visual Arts Program.
Minela demonstrates a continued engagement with refugee issues through the Visual Arts and below she shares a photo essay giving insight into her background and journey in 2015 through her placement at MAV.
FROM PORTSEA TO VENICE, BOSNIA, PRAGUE, BERLIN AND CAMBODIA: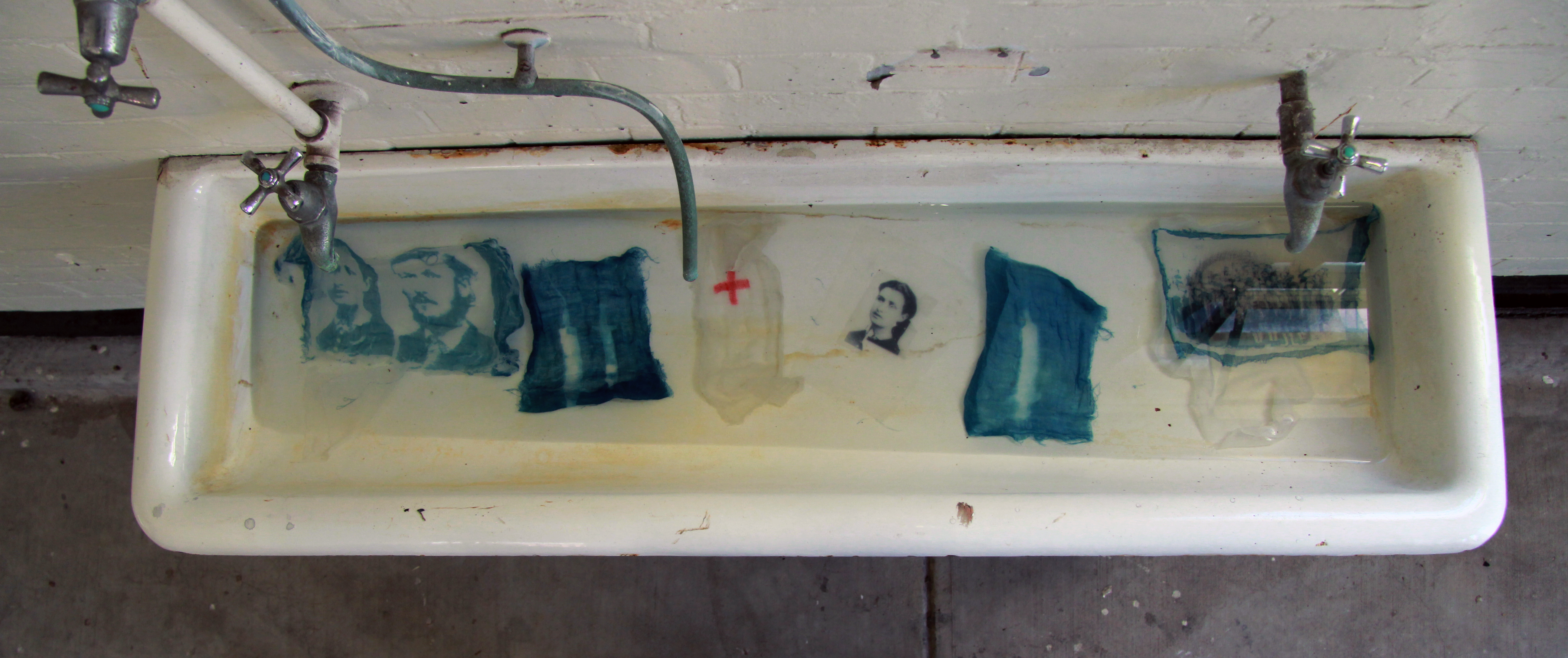 I first found out about Multicultural Arts Victoria in 2011 when I was in my second year at the Victoria College of the Arts (VCA) and a friend recommended I apply for MAV's Heartlands Refugee Art prize. I received the People's Choice Award, which encouraged me to apply again in 2012 when I ended up being awarded first place.
ARTIST RESIDENCY AT WILSONS PROM NATIONAL PARK AND THE QUARANTINE STATION AT POINT NEPEAN IN PORTSEA
The award generously included an Artist Residency at Wilsons Prom National Park with the support of Parks Victoria and a solo exhibition at The Quarantine station at Point Nepean in Portsea.
PALIMPSEST, EXHIBITION OPENING, PORTSEA
This was a great opportunity and experience, providing a key stepping stone for my journey in the visual arts.
"In the Shadow" – We are being surrounded exhibition 201
That same year I received the Australia Council Art Start grant for graduates in Bachelor of Art, which assisted in purchasing an etching press to start a small printmaking studio called Inkling Workshop, as part of the City of Melbourne's Docklands Spaces Initiative.
INKLING WORKSHOP
As a Melbourne University alumni I had the opportunity to apply for the Melbourne University Professional Pathways Scholarship as a successful applicant I was able to secure an internship with MAV to work with them on their Visual art program for 2015.
In March I worked on a printmaking project called "Etch This" for the Emerge Festival, where Sean Smith from The Ownership Project and I facilitated young refugee artists in creating etching prints and exhibiting them for the festival.
"ETCH THIS" FOR THE MAV'S EMERGE IN YARRA FESTIVAL:
Through my Melbourne University Professional Pathways Scholarship and MAV's support I was able to travel to Europe and Cambodia for a research and development trip with filmmaker Alesh Macak.
First stop was Venice, for the Biennale and the many satellite exhibitions around the city. With sore feet and excruciating heat we managed to see more art than I can remember and it offered a well of inspiration whilst being surrounded by such a magical city.
VENICE:
In Bosnia I was looking particularly at the history of genocide and war and what it means to be a refugee, and to also see how people have moved on or not. I spoke with established local artists in Sarajevo, Mirsada and Alisa, and spoke of future collaborations and listened to their stories. I visited craftspeople, most of whom stayed during the war, all with varied stories and interpretations of the state of Bosnia now.
I indulged in traditional Bosnian coffee and experienced pure cold water direct from streams in the lush mountains. Bosnians are hospitable and the Bosnian coffee drinking ritual is inevitable during conversation.
BOSNIA AND HERZEGOVINA SARAJEVO:
My Uncle was our tour guide, he was also in Sarajevo during the four year siege and revealed stories of the horrors of war, what they all went through and how they cope with the past in the present. I visited the Srebrenica Genocide Memorial as 2015 also marked the 20 year anniversary of Srebenica Genocide. We also visited Ron Haviv's exhibition in Sarajevo that showed the atrocities of the genocide through photographs and video.
Srebrenica (Genocide Memorial):
Next stop was Prague where we visited contemporary art galleries, whilst taking in the architecture and grandeur of the place itself. We also visited a community of contemporary artists at the Meet Market for artists talks information session and seeing what the artists are producing with the scope of applying for their residency program in the future.
Prague:
We visited my sister's (Jasmina Krupic) art studio in Berlin at Milhof Studios to discuss future residency opportunities for Australian artists. We also visited Kunstlerhaus Bethanien residency studio, Bahnhof Gallery and many other contemporary spaces that Berlin offers. I noticed gold plated name badges cemented into the streets of Mitte acknowledging those deported during WWII.
BERLIN:
In Konjic, Bosnia, we also visited Tito's Tunnel, exhibiting works as part of the Sarajevo Biennale of Contemporary Art. 
Tito's bunker was built between 1953 to 1979 in the former Yugoslavia and was created to withstand nuclear war
and to shelter some 300 communist leaders and army generals with fresh water, air conditioning and the newest computer technology.
The exhibition was set up around all the existing equipment, retro phones, furniture, and Tito's portrait adorning every room. Artists from around the world interpreted the space with sound, media, and installation. We were raced through by tour guides in an hour and got lost along the way in the labyrinth.
TITO'S TUNNEL, SARA BIENNALE:
Finally, our last leg was to Cambodia for research and development investigating Khmer culture at its present state post-war. We noticed similarities and undertones with Bosnia and examined the culture through my own experiences. We visited the KAMA centre in Kampot to collaborate on a future project with Julien Poulson from the Cambodia Space Project. We visited the Genocide Museum, Tuol Sleungin Phnom Penh, the Bophana Research centre and SASA BASSAC to immerse ourselves in the history and to gain a better understanding of its people.
CAMBODIA:
The research from Minela Krupic's 2015 trip will be exhibited as part of MAV's 2015 Mapping Melbourne festival at the Food Court gallery and Inkling Workshop in Docklands titled 'From Spaces Past'.
Image credit: Alesh Macak and Minela Krupić